---
Economic Importance of Gymnosperms
The Gymnosperms are with high economic importance to mankind. For easy understanding, the economic importance of Gymnosperms can be categorized in the following heads:
(1).      Food Value
(2).      Medicinal Value
(3).      Timber Value
(4).      Source of Oil
(5).      Industrial Value
(6).      Ornamental Value
(7).      Other Uses
(1). Food Value
Ø  Cycads are a good source of Starch.
Ø  'Sago' is a starch obtained from the pith and cortex of the stem of Cycas revolute and Cycas rumphi.
Ø  'Seed starch' is obtained from the seeds of Cycas rumphii and Dioon edule. It is prepared into flour and cooked before eating.
Ø  Seeds of Pinus gerardiana are edible and are commonly known as chillgoza.
Ø  'Kaffir bread' is a type of bread prepared from the stem pith of Encephalartos.
Ø  Young leaves of Cycas are cooked as vegetables in some parts of the world.
Ø  The seeds are Gnetum is also edible.
(2). Medicinal Value
Ø  Paclitaxel (PTX), an anticancer drug sold under the trade name 'Taxol' is an alkaloid extracted from the bark of Taxus bervifolia. Taxol is a spindle fibre inhibitor, which prevents the progression of cell division. It is used in the chemotherapy of ovarian cancer, breast cancer, lung cancer, cervical cancer and pancreatic cancer.
Ø  Ephedrine, an alkaloid extracted from the Ephedra is used in the treatment of asthma, cough, cold, bronchitis etc. The decoction of Ephedra is a cardiac stimulant.

Ø  Juice of the young leaves of Cycas revoluta is used for curing blood vomiting.
Ø  Cycas-gum: an antidote against snake bite and it is also used against malignant ulcers.
(3). Timber Value
Ø  Gymnosperms are a good source of Timbers. Gymnospermic woods are called Softwood. They are very useful in making furniture and for other construction purposes.
Ø  Coniferous wood is resistant towards insects and fungus.
Ø  These woods also have good durability and are of lightweight.
Ø  Agathis australis is the largest timber producing tree in the world.
Ø  Some gymnosperms produce scented woods such as Cedrus deodara.
Ø  The wood of Pinus is used for making doors, poles, beams, railway wagon flooring etc.
Ø  Plywood is prepared from the wood of Podocarpus.
(4). Source of Oil
Ø  Edible oil is extracted from the seeds of Cycas revoluta, Macrozamia riedlei, Pinus cembra and Cephalotaxus drupacea.
Ø  Red cedar wood oil extracted from the heartwood of Juniperus virginiana is used in oil immersion microscopy.
Ø  Oils obtained from Cedrus deodara, Ciyptomeria japonica and Cupressus sempervirens are used in preparations of perfumes and soaps.
(5). Industrial Value
Ø  Tannins: Tannins extracted from the bark of Araucaria, Pinus and Sequoia are used in the leather industry.
Ø  Canadabalsam is a resin obtained from Abies balsamea and used as a mounting medium in biological preparations. Canadabalsam have same refractive index as that of glass.
Ø  Amber (fossil resin) is obtained from Pinus succinifera. It is used for making jewellery, pipes and cigar holders.
Ø  Papers industry:  Newspaper, writing and printing papers are prepared from the wood pulp of Pinus, Picea and Abies
Ø  Gum-Cycas is used as adhesive.
Ø  Leaves of cycads are used for preparing baskets, mats, hats, brooms etc.
Ø  Fibres obtained from the leaves of Cycas and Macrozamia are used for stuffing pillows and cushions.
Ø  The wood of Taxus is used for making Pencils.
Ø  Pinus roxburghii produce oleorosins and gum-rosin which are brittle and aromatic solids used to manufacture soaps, varnishes and printing inks
(6). Ornamental Value
Ø  Many gymnosperms are grown as ornamental plants:
Ø  Example:
o   Cycas: Leafy ornamental
o   Zamia: leafy ornamental plant
o   Araucaria: Avenue tree
o   Thuja: Small shrub
o   Podocarpus: Small tree
o   Juniperus: small tree, as bonsai
o   Pinus: avenue tree, as bonsai
o   Ginkgo: Leafy ornamental, Sacred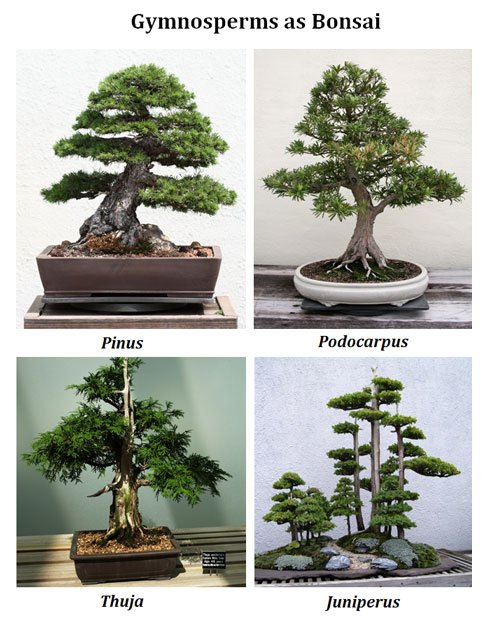 (7). Other Uses
Ø  The strong root system of gymnosperm prevents soil erosion.
Ø  Few gymnosperms are 'Living Fossils' (Cycas, Ginkgo) they provide important scientific knowledge about the past flora of earth.
Ø  The bark of Gnetum gnemon and G. ula is used to obtain Fiber for making fishing nets and ropes
Ø  Some Gymnosperms, particularly Conifers, are good sources of fuel-wood.
<<< Back to GYMNOSPERM Home Page
Do you have any Queries?
Please leave me in the Comments Section below.
I will be Happy to Read your Comments and Reply.
---
You might also like…
@. Gymnosperm: General Characteristics
---
---