---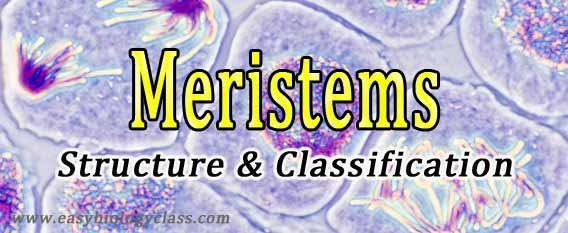 What are meristems?
Ø  Meristem is a type plant tissue composed of an undifferentiated mass of cells.
Ø  They are rapidly dividing cells found in the growing portions of the plant and they give rise various plant organs.
Ø  The primary function of meristem is to assist in plant growth.
Ø  Living cells other than meristem can also give rise new cells; however, the meristems carry on such activity indefinitely.
Ø  Meristematic cells not only add new cells to the plant body but also perpetuate themselves.
Ø  Meristematic cells when divide, some portions of division do not differentiate into adult cells but remain meristematic.
Ø  The term meristem was first proposed by Karl Wilhelm von Nägeli (1817–1891) in his book Beiträge zur Wissenschaftlichen Botanik ("Contributions to Scientific Botany").
Ø  The word meristem is derived from a Greek word 'merizein' meaning 'to divide'.
Characteristics of Meristematic Cells
Ø  The characteristic features of meristematic cells are summarized in the post: Characteristic Features of Meristematic Cells
Classification of meristems
Ø  Meristems are classified according to TWO criterions
(1). Classification based on position in the plant body
§  Apical meristem
§  Lateral meristem
§  Intercalary meristem