---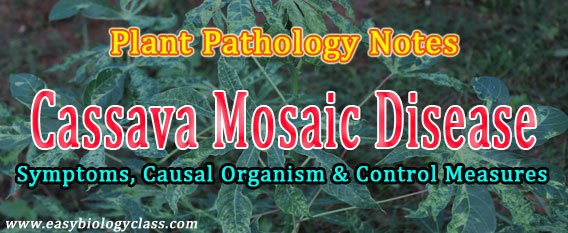 Mosaic Disease of Cassava or Tapioca


(Cassava Mosaic Disease: Symptoms, Causal Organism, Etiology and Control Measures)
Cassava / Tapioca*
Ø  Cassava or Tapioca (Botanical Name: Manihot esculenta; Family: Euphorbiaceae).
Ø  Cassava is a vegetatively propagated tuber crop plant.
Ø  The root tubers of tapioca are rich in starch.
Ø  Cassava is native to South America. Now the cassava is cultivated worldwide.
Ø  Cassava is a staple food in many regions for about 600 million people worldwide.
Ø  Linamarin is a cyanogenic glucoside found in the roots of cassava plants.
Ø  Linamarin can be converted to cyanide in the gut.
* In fact, tapioca is a starch extracted from the cassava root through a process of washing and pulping. However, the terms 'Tapioca' and Cassava are used as synonyms.
Leaf Mosaic Disease of Cassava
Ø  This disease is commonly known as CMD or Tapioca Mosaic Disease.
Ø  It is one of the worst diseases of tapioca severely affecting the productivity of the plant.
Ø  The disease was first reported in the coastal areas of Nigeria (1929).
Ø  CMD is widely occurring in Kerala and other tapioca cultivating parts of India.
Symptoms
Ø  CMD is characterized by the severe mosaic symptoms on leaves.
Ø  Light-green, yellow or white spots are formed on the leaves.
Ø  Affected leaves show mottling in the beginning.
Ø  Later the leaves show severe symptoms.
Ø  Discoloration, Malformation and Puckering of the leaf blade occur.
Ø  Vein clearing, vein banding and vein thickening.
Ø  The entire plant becomes stunted.
Ø  Diseased plants can be recognized even from long distance.
Causal Organism
Ø  Cassava mosaic disease is a viral disease
Ø  Caused by Cassava Mosaic Virus (CMV) (Tapioca Mosaic Virus)
Ø  CMV is a single stranded DNA virus of the Family Geminiviridae.
Ø  The virus is transmitted by an insect vector called Whitefly (Bemisia tabaci).
Etiology-Disease cycle (Spread of disease)
Ø  The CMD disease is spread and transmitted by the sap-feeding whitefly (Bemisia tabaci).
Ø  Bemisia tabaci act as the vector for the spread of the disease.
Ø  Vector: an agent which act as the carrier of the pathogen.
Ø  Other causes of transmission:
$  Vegetative propagation (use of cuttings from infected plants)
$  Mechanical transmission through sap, seeds of pollen grains.
$  Biological transmission by fungi, nematodes and other insects.
Control measures
Ø  Since CMD is a viral disease, no treatment to recover the affected individuals.
Ø  Controlling the insect vector is the best option to prevent the spread of the disease.
Ø  Sanitation practices such as removing and burning the infected plants is effective.
Ø  The proper use of cultural instruments
Ø  Changing the planting season is also effective.
Ø  Tapioca planted after the beginning of the rainy season is less susceptible to disease.
Ø  Use of resistant varieties such as S-1310, S-2380 and H-97
 <<< Back to PLANT PATHOLOGY Home Page
Do you have any Queries?
Please leave me in the Comments Section below.
I will be Happy to Read your Comments and Reply.
---
You might also like…
@. Enzymes in Plant Parasite Interactions + PPT
@. Toxins in Plant Parasite Interactions + PPT
---
More Plant Pathology Lecture Notes…